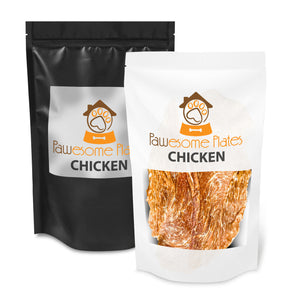 This is our most popular dog snack. No imported chicken here!
We start with whole, USDA certified and approved chicken breast and slice it thin before dehydrating it in our own ovens in our South East Michigan Kitchens.
The texture is very much like a chewy, semi-crispy snack that dogs can't get enough of!


Just one ingredient: USDA Certified Chicken Breast
Delicious and great for picky dogs
Baked and dehydrated with absolutely NO chemicals added - this is not Jerky!
No growth hormones
No partial grains, no additives, no preservatives
No artificial coloring
FREE SHIPPING